Welcome to Green Coco Charters
Thanks for visiting! We are a cruising family that offers unique sailing trips
in French Polynesia, including Ocean Workshops.

CALENDAR: 2022 dates for trips available
NEW: Bora Bora in 3 days // Manta Rays in a Squall
PODCAST: Green Coco on Tiny Home Tours
What we do
A family raising twins at sea welcomes you aboard
We are Kristian and Sabrina, owners of Selaví and founders of Green Coconut Run.

We are thrilled to take you and friends & family to explore beautiful islands, see magnificent places, and eat delicious food!

You'll explore French Polynesia's wonders in total comfort aboard our 46 foot deluxe catamaran, which sleeps up to 8 guests in 4 private cabins or single bunks. See Prices.

Your voyage will be an unforgettable adventure retreat under sail, with gourmet food, curated for YOU. Watch the Boat Tour.
Using our 17 years of offshore experience and remote island navigation, we focus on safety and cultivating amazing experiences.

Our trips are all family-friendly, and our twins are usually onboard for trips with 4 or less guests.

You'll see the the most healthy coral reefs on Earth, storybook-beautiful paradise islands, and experience an empowering, off-grid lifestyle on the ocean.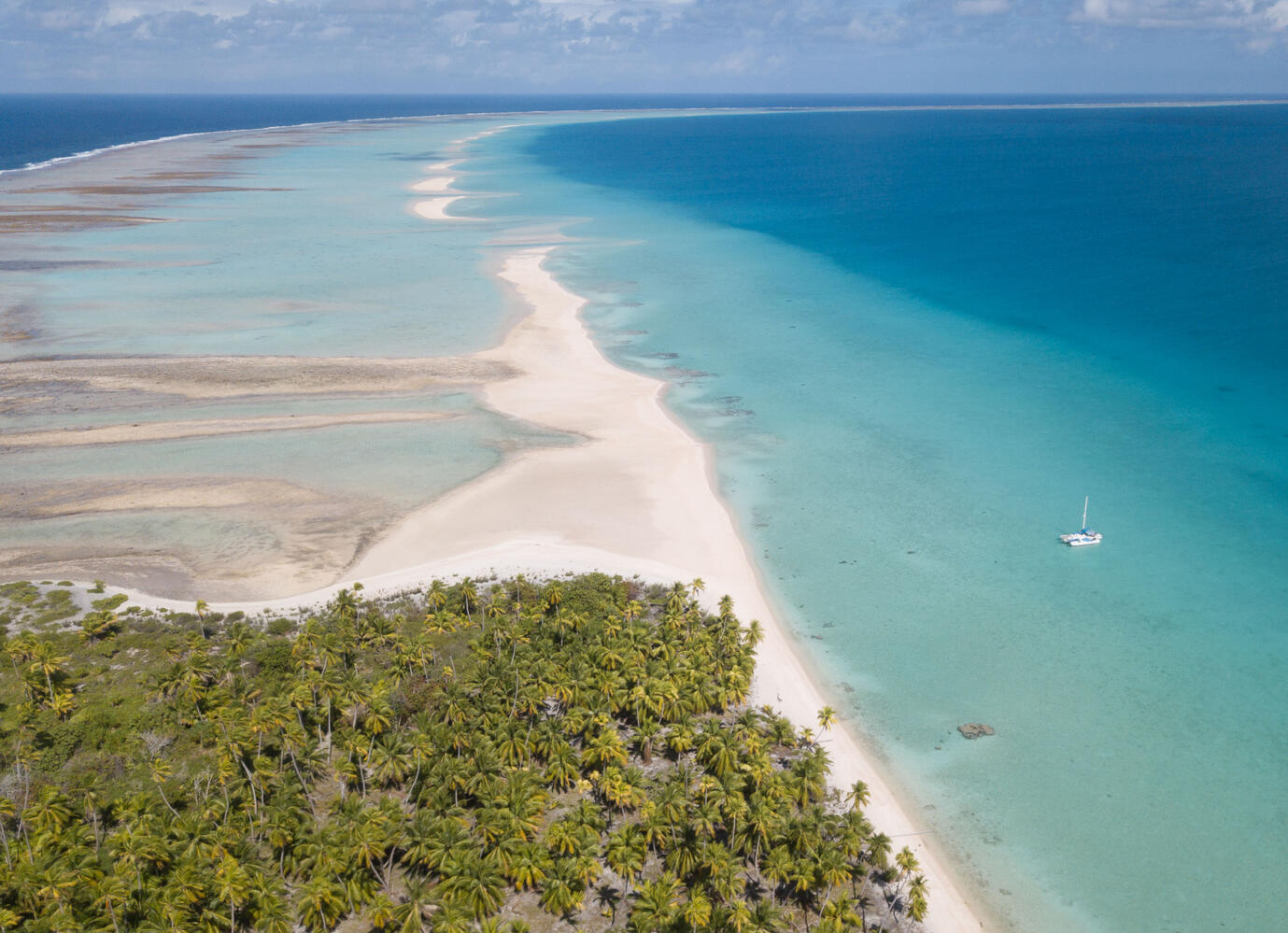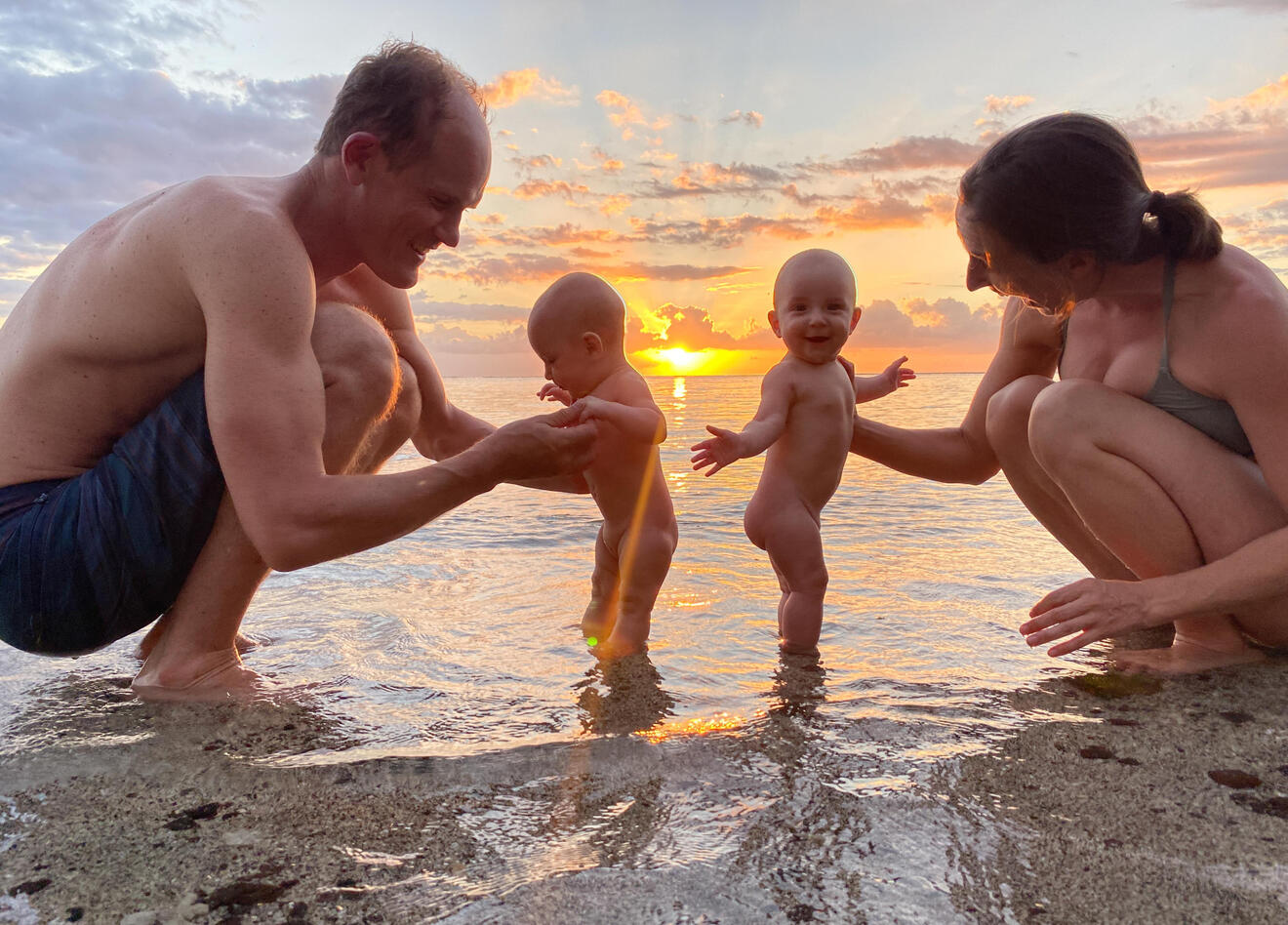 Sample Itinerary: Fakarava
Changes are subject to weather. Extras listed are additional cost and need to be arranged ahead of time.
PRE-TRIP: We recommend arriving in Fakarava one day before your cruise to see the village with bicycles or electric cars.

DAY 1: Pickup in Rotoava or airport, starting as early as 9:30am. We'll sail 30 minutes to visit the north pass, where we can spend the night, for great snorkeling and walking on deserted beaches. Extras: Scuba diving at the North Pass.

DAY 2: Sail south to Hirifa, which is the calmest bay in the atoll, about 5 hour day sail, entirely inside the protected waters of the lagoon. We'll explore beautiful channels for snorkeling and a remarkable beach. Extras: dinner at a local's rustic restaurant on the beach; kitesurfing lessons and foil-wake boarding.

DAY 3: We'll head to the South Pass, one of the underwater wonders of French Polynesia, just one hour sailing, so we'll have time for start exploring this magical zone before dinnertime. Extras: Scuba diving at the South Pass.

DAY 4: We'll spend the day in South Pass. We'll head to the paradisiacal Pink Sands in the morning, and then snorkel the pass in the afternoon and visit motus. Extras: Scuba diving at South Pass, Polynesian buffet dinner.

DAY 5: Sail to another atoll for a special cultural & culinary experience with locals. Extras: spearfishing and ocean fishing.

DAY 6: Visit beautiful remote motus "on the edge of the Earth" and enjoy a beach campfire with fresh fish, soaking in the majestic nature of Tuamotus.

DAY 7: See any highlights you loved enroute to the village to drop you off by 3pm.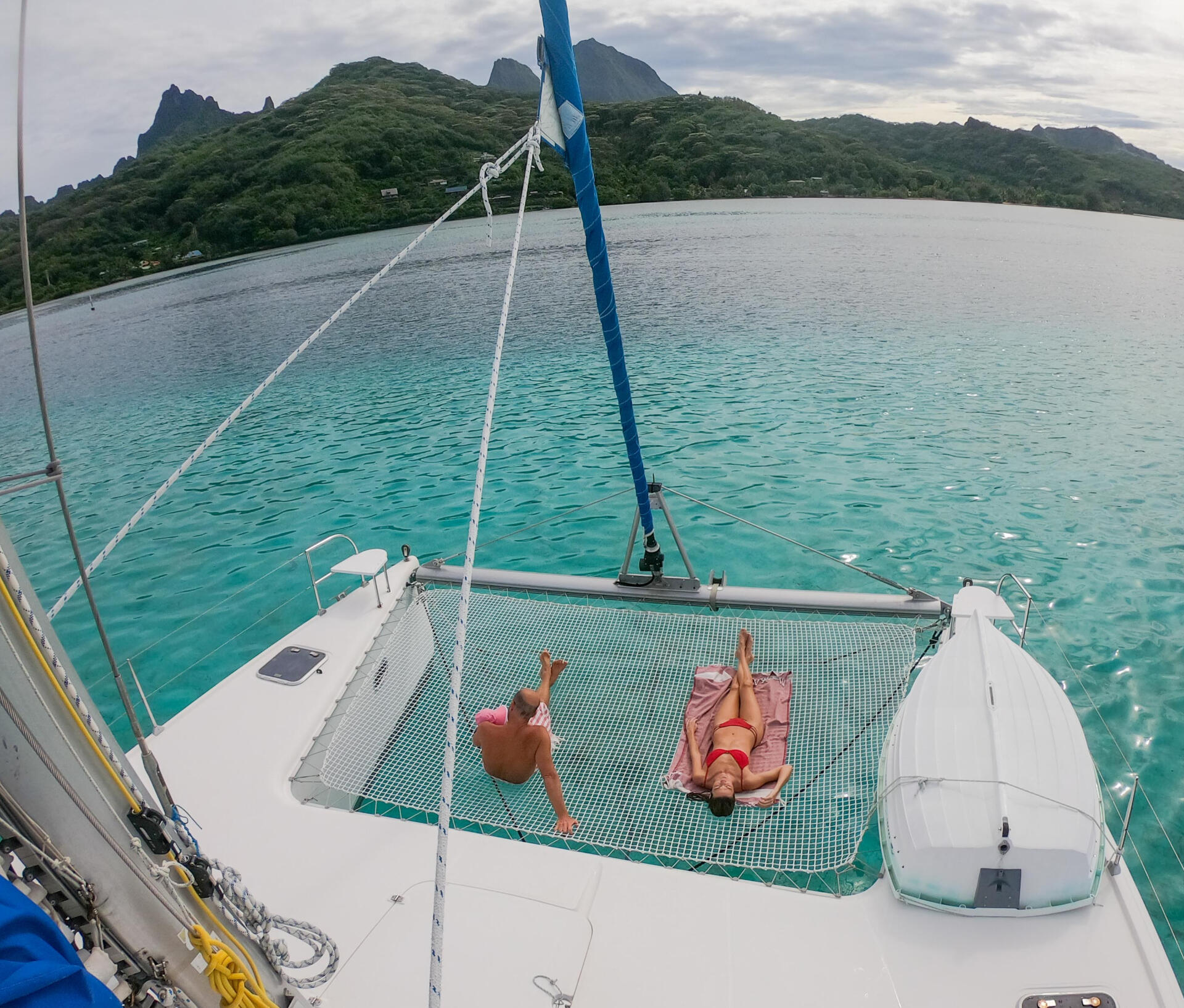 A Perfect Hideaway
On the boat, all your needs are met: accommodation, transport, tours, meals.
Everything in one place.

You can fully relax, and focus on getting inspired during your vacation.

Get a tour of your floating home here.
Magic Encounters
Prepare for incredible moments with wildlife.

We approach all animals with respect and offer clear guidance for guests.

French Polynesia is an underwater biodiversity hotspot for fish, coral, sharks, rays, and whales.

Watch some of our Voyage Highlights with marine life and memorable experiences.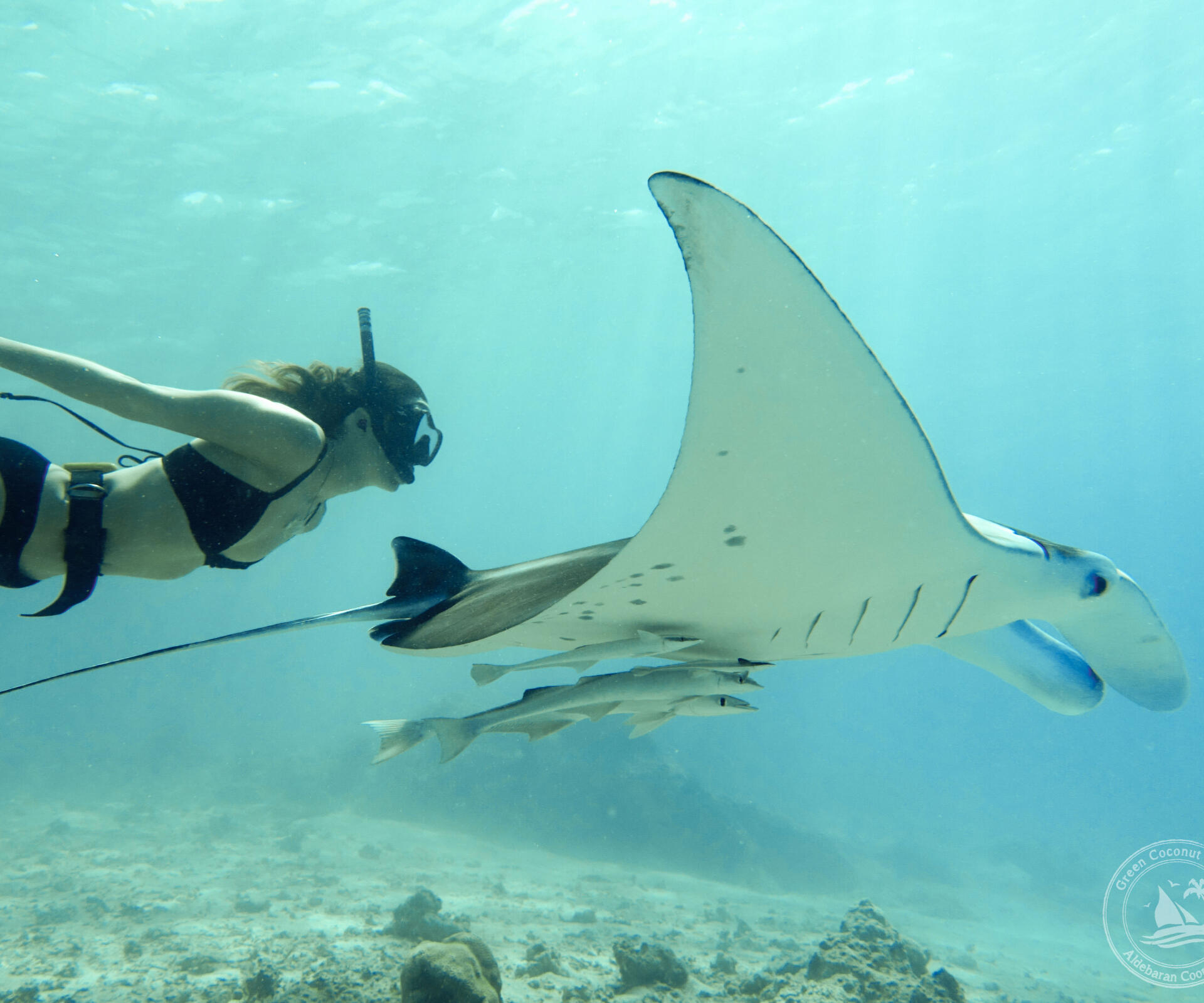 Exploring in comfort
Our catamaran is a beautifully maintained, 46ft French Fountaine Pajot with clean decor and a spacious feel.

There are 3 private cabins and single bunks aboard, sleeping up to 7 guests.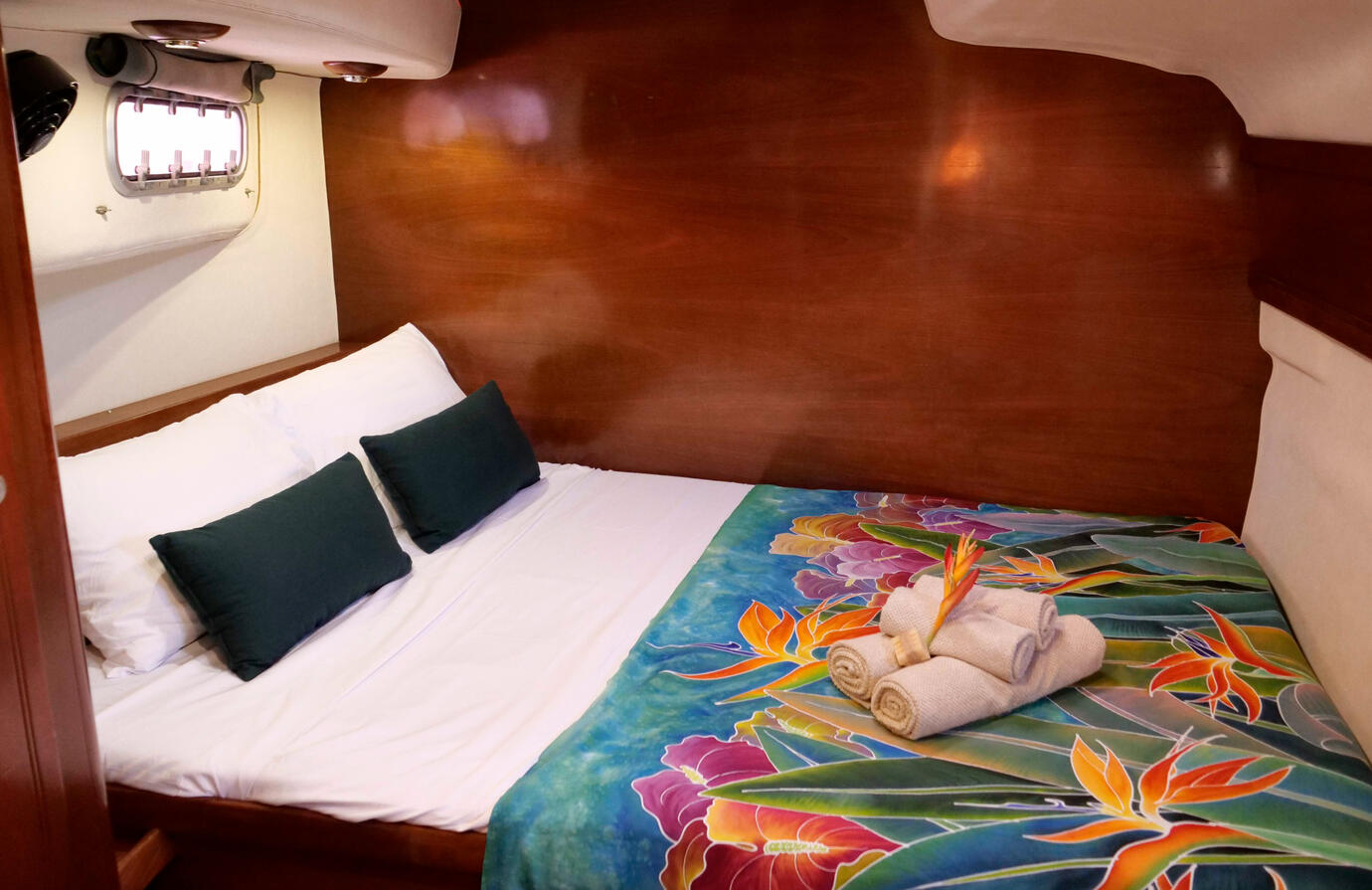 Each of the three private cabins aboard Selaví has an ergonomic queen size mattress, down pillows, ensuite private bathroom with warm showers.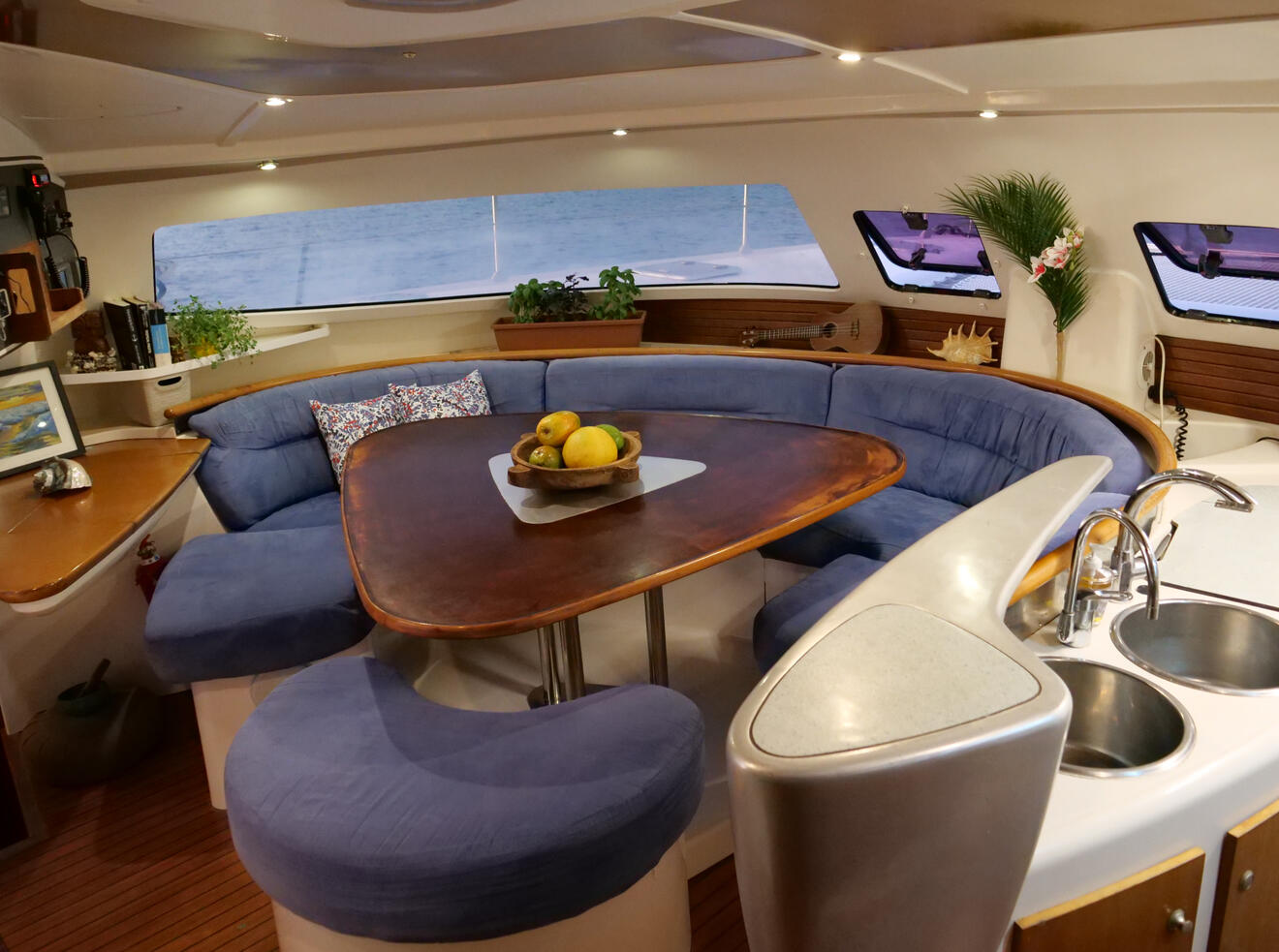 There are two dining areas aboard Selaví: the indoor salon with panoramic windows, and the outdoor cockpit with all-weather protection.
Floor Plans
Wondering where are the cabins and places to relax on the boat? Click on the floor plans below to see details...
And don't miss the Video: Boat Tour below!

Illustrations by Alex Wyndham
Video: Boat Tour
Come aboard ! Click play below to "walk through" the boat.
QUICK LINKS
Prices
Shared Boat: 1 cabin
Private Boat: 2-4 cabins
Shared Boat:
Enjoy the privacy of your cabin and bathroom, along with other guests aboard.

Book 1 cabin: $5,500/week.
Private Boat:
A fully private experience with just your party aboard. Can accommodate up to 8 guests.

Book 2 cabins: $11,000/week.
Book 3 cabins: $16,500/week.
Book 4 cabins: $19,250/week (the fourth cabin is 1/2 off)
Each Private Cabin:
Sleeps 2 people, includes all meals and activities. See the boat tour.

Has private bathroom, shower, hanging closet.
Want more time or space?
Additional Days $750/day.

Extra Single berths are $250/day.
Included:
1. All Meals & Airport Transfers
From fresh baked bread to 'boat-made' yogurt... our gourmet yacht cuisine is inspired through global travels and visiting chefs.

2. Daily Adventures
Sailing to new anchorages, guided snorkeling, stand-up paddling, connecting with locals, island hikes.

3. Ocean Workshops: mindfulness & seamanship
Learn unique new skills while exploring paradise!  Optional, all-ages workshops include:
The Yoga of Sailing

Breathwork & Freediving

Tiny Home Polynesian Cuisine

NonViolent Crew-munication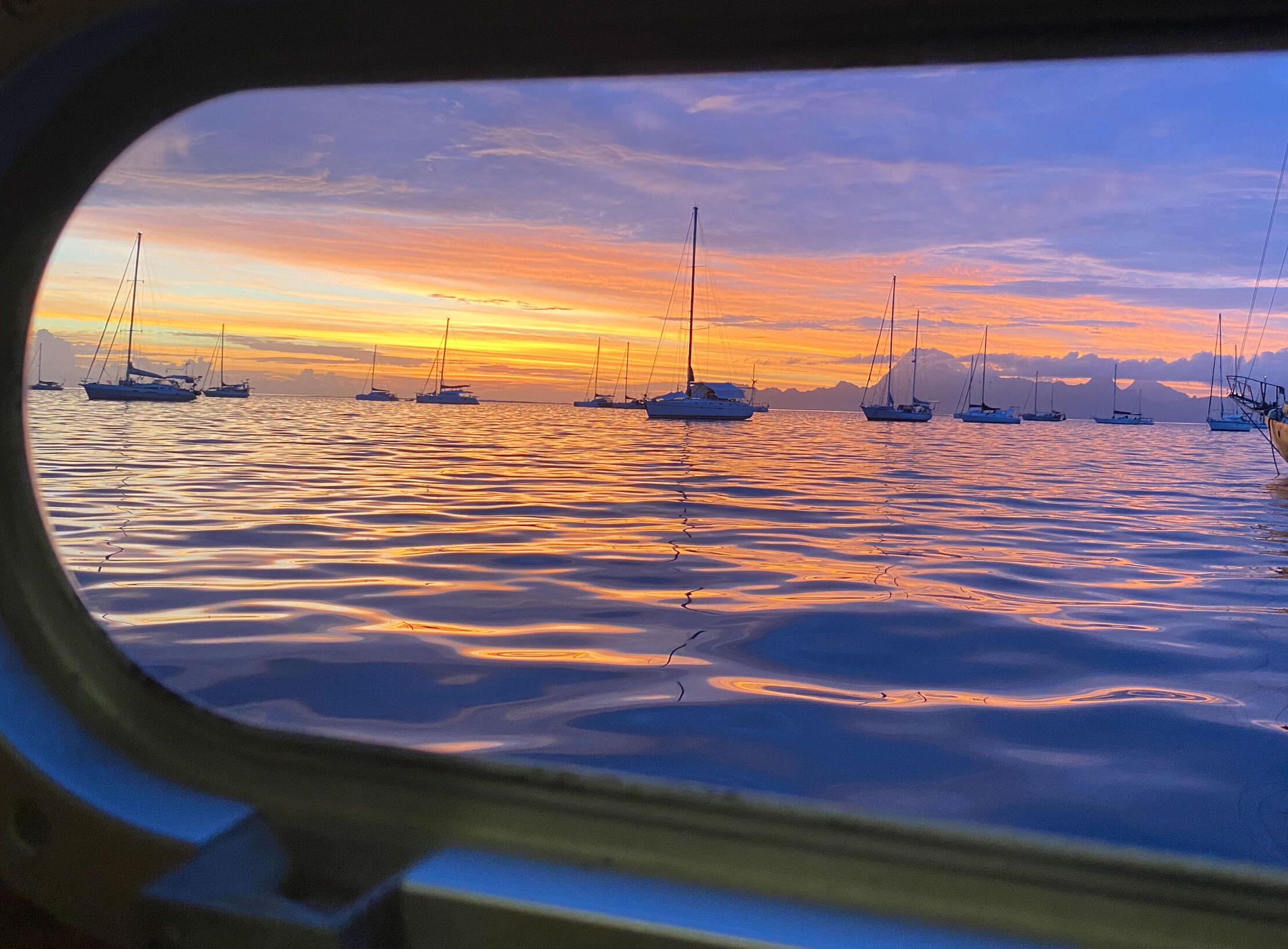 Extras:
-- Alcoholic and specialty drinks.
-- Kitesurfing, SCUBA, Fishing, and Wake-Foil Boarding.

2022 Calendar ~ NEW!
Only 10 Trips out of 16 available!
~ TUAMOTUS TRIPS ~
January 14-28. Tahiti to Tikehau. Shared Boat only. One cabin + one single berth AVAILABLE.

February 3-9: Tikehau. FULL

February 12-26: Tikehau to Fakarava. Shared Boat only. One cabin AVAILABLE.

March 4-18: Fakarava to Makemo. FULL
~ TUAMOTUS TRIPS ~
March 27-April 4: Makemo to Fakarava (via Tahanea). FULL

April 9-16: Fakarava. FULL

April 22-May 1: Fakarava. FULL

May 6-20: Fakarava. FULL.

June 10-June 17. Fakarava. Private or Shared Boat. Three cabins AVAILABLE.

June 24-July 1. Fakarava. Private or Shared Boat. Three cabins AVAILABLE.

July 8-17. Fakarava to Tahiti. Private or Shared Boat. Three cabins AVAILABLE.
~ SOCIETY ISLANDS TRIPS ~
July 30-August 7. Moorea to Huahine. Private or Shared Boat. Two cabins + one single AVAILABLE

August 13-21. Huahine to Raiatea. Private or Shared Bot. Two cabins + two singles AVAILABLE.

August 27-September 3. Raiatea to Bora-Bora. Private or Shared Boat. Two cabins + two singles AVAILABLE.

September 8-16. Bora-Bora to Raiatea. Private or Shared Boat. Two cabins + two singles AVAILABLE.

October 1-15. Huahine to TahitiPrivate or Shared Boat. Two cabins + one single AVAILABLE.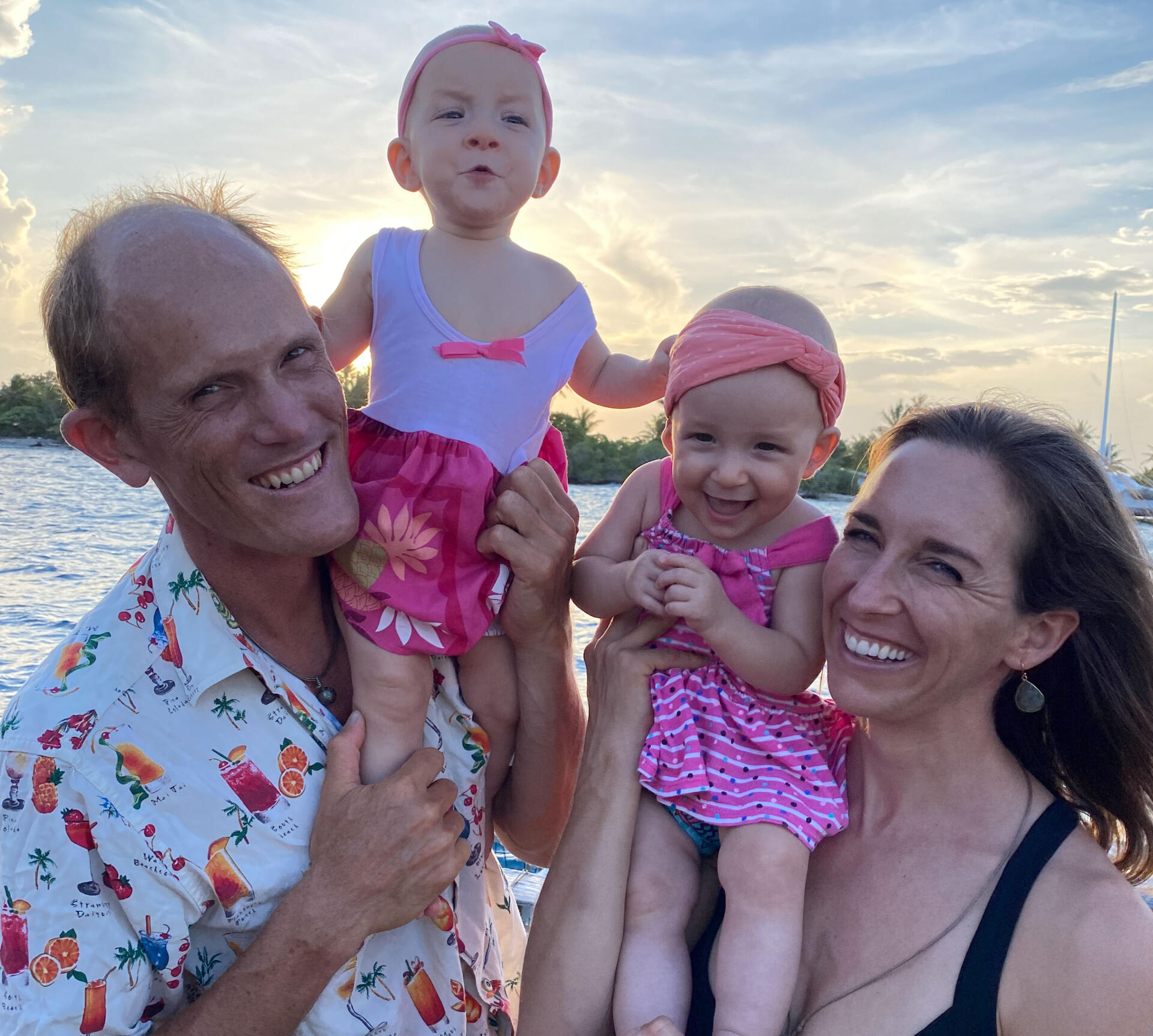 Send us a Question
Change Policy
We understand the need for flexibility when making travel plans during these extraordinary times with COVID-19
(read our Safety Statement below).
What if I need to change plans?

You can ALWAYS change your Scheduled Trip to a different date. Change fees are waived within two weeks of booking your trip; and for border closures due to COVID-19. Otherwise, the change fee is 20% of trip cost (travel insurance may cover this expense).
What if I need to cancel?

We do not offer refunds. You may cancel your reservation, and keep your credit for 3 years as an Open-Ended Trip. Simply book a Scheduled Trip at your convenience, after paying your change fee.
Voyage Highlights
These are some of our standout experiences, as told by the Crew and Captains.

We seek authentic connection with locals, wildlife, and the natural beauty of islands.
"SUP-NORKELING"
We paddled up a channel between two motus on a remote corner of the atoll. We explored it like a river, meandering around corners until we jumped into the water with our snorkel and masks, and saw a whole new world below... - Sabrina
"WHALE HIGH"
A truly magical encounter with a baby and mama humpback in Tahiti leaves our crew feeling ecstatic. We've never had such an intimate encounter with whales!
Enjoy the videos
To follow:

Subscribe to our Newsletter
Follow us on Instagram
Or, see our Facebook Page
"AFTER DARK WITH MANTAS"
While having dinner, we hear a huge splash off the back of the boat -- manta rays feeding! I decided to dive in solo and investigate. It was a tense, hypnotic, and eye-opening experience. -Kristian
"BLUE LAGOON"
This lagoon has the most surreal, psychedelic blue & turquoise colors you've ever seen -- it is intoxicating just to look at. Green Coco visits Lagon Bleu in Rangiroa with our friends on Kaimana Excursions.
See our Newsletters
Subscribe to Newsletter
Receive our Newsletters by email, sign up at the right:
Voyage Highlights

Ocean Skills with Mindfulness

Family life Afloat

Upcoming Trips & Deals
Articles & Podcasts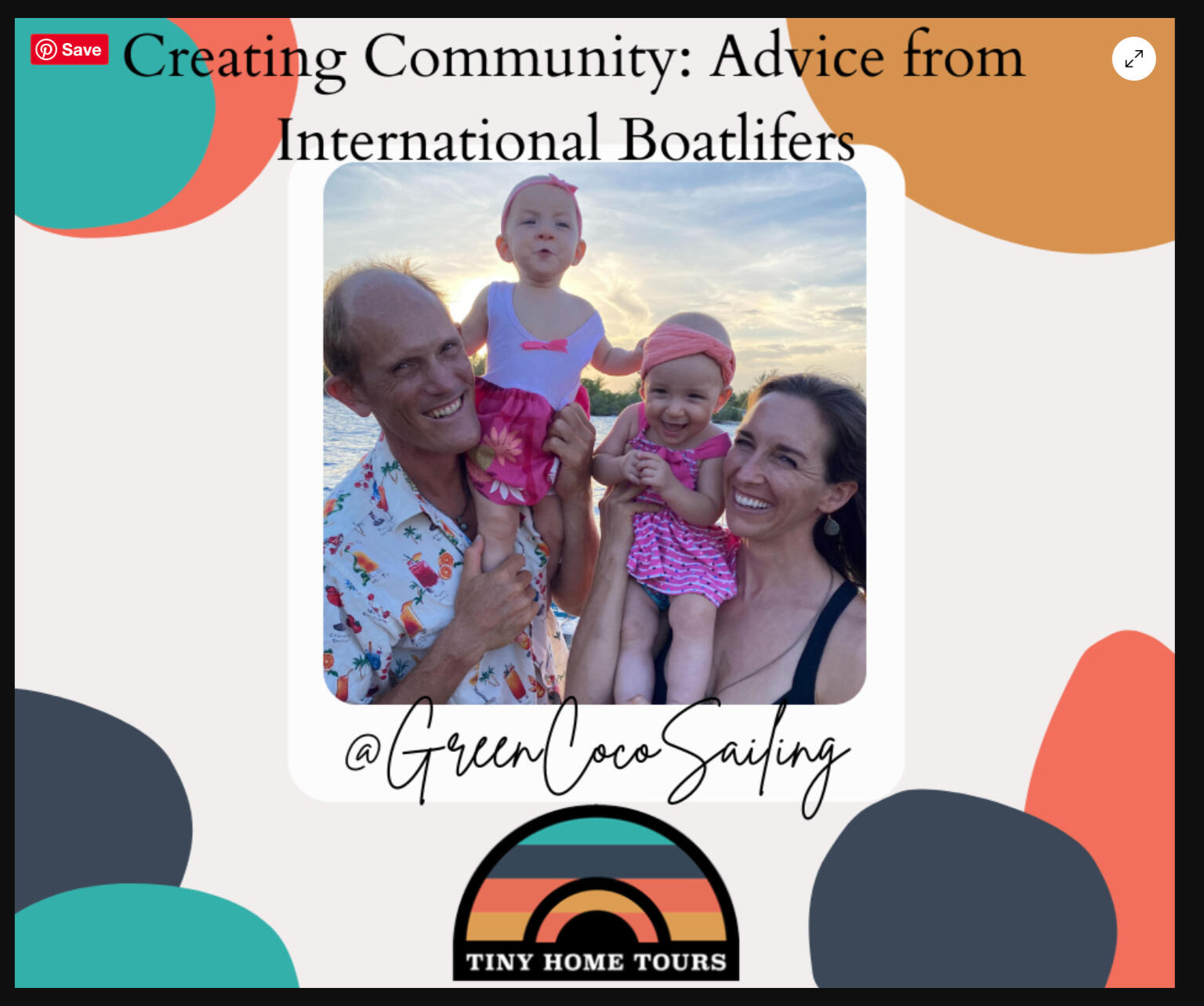 Long-time cruisers Sabrina and Kristian share what it is like to live aboard a 46-foot catamaran in French Polynesia with twin baby girls. They share experiences from their twenty years of international sailing, how they started an adventure cooperative to realize their boatlife dreams, and how they changed up their lives to open their home up as a tour charter company.
Anti-fouling bottom paint is very toxic. This Copper Coat, an epoxy paint, promises to be environmental sustainable, and cheaper in the long run. But there are big challenges to application. Kristian describes the experience in this article.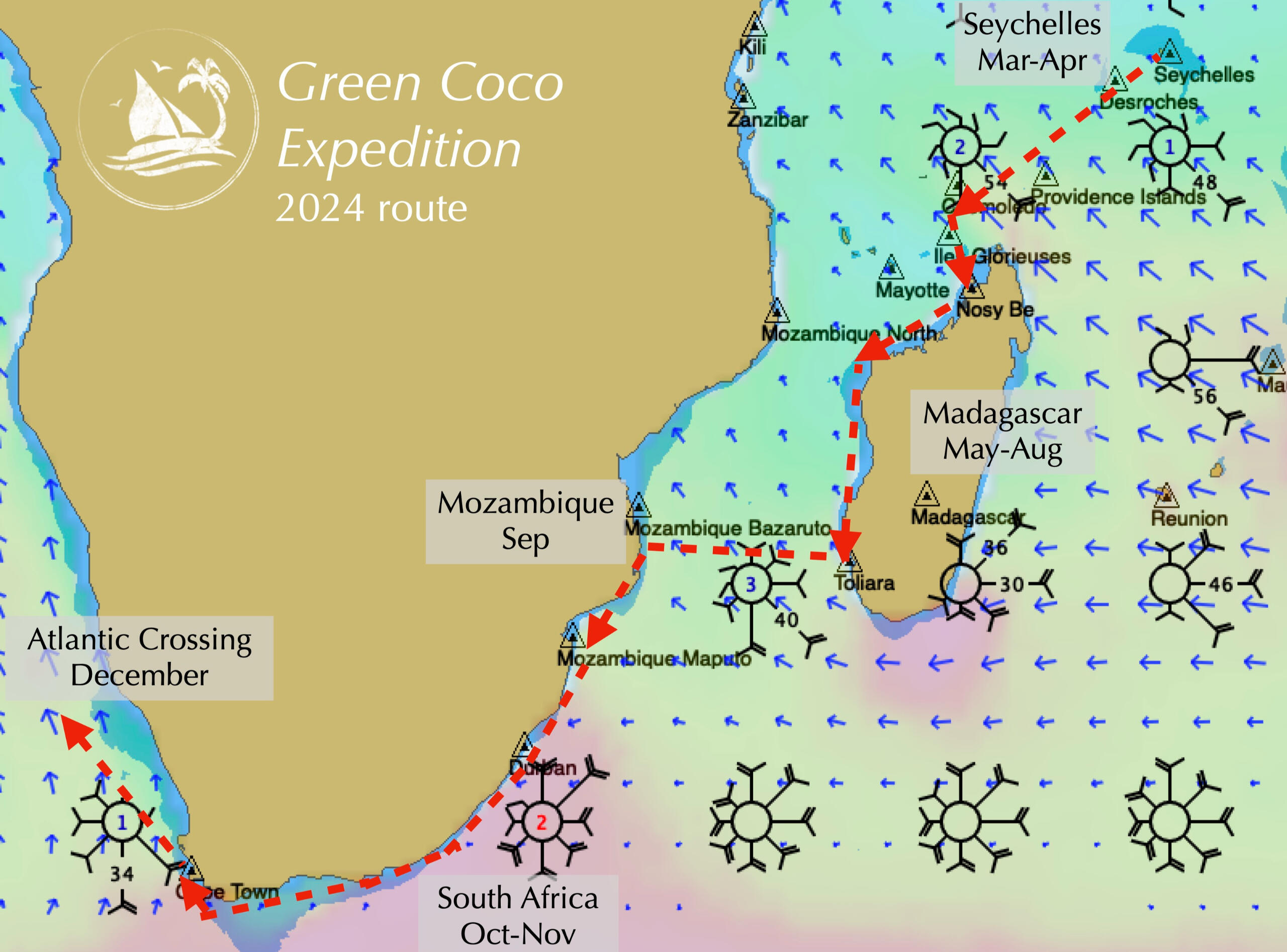 Mid Pandemic, we moved our newborn babies and shipped our life belongings to Tahiti to purchase our catamaran. The deal almost fell through. Learn about how we used NVC to make it happen, thanks to our years of cooperative cruising on Green Coco.
Article by our friend living in the Tuamotus during the Pandemic. How to connect with the present moment. Great read!
Safety Statement:
Tahiti Borders and COVID-19
UPDATE: May 15, 2021.
Tahiti has reopened borders only to tourists having spent the last 30 consecutive days in USA.

Everyone over 6 years of age needs to be vaccinated, or else subject to 10 day quarantine in Papeete at traveler's expense (approximately $150/day + food)

All visitors are still subject to COVID testing before departure (72hrs pre boarding PCR-RT test) and tests upon arrival in the country (provided by the state.

We provide clear guidance for all Green Coco guests' sanitary measures so that it is an effortless & safe process.

See Tahiti Tourisme website for more information.

What if I need to make changes? See our change policy for options.

Once aboard the boat, life is fairly normal in our own little bubble. It is a great vacation from all the pandemic anxiety.
Your hosts, Kristian & Sabrina
We are an adventurous cruising family raising twins aboard, with 20 years of international sailing experience. Kristian is a US coast guard captain & Sabrina is a registered nurse and dive master.
We welcome families, couples, business groups and those seeking a transformative adventure.
How did we get here?
After exploring the Santa Barbara Channel Islands on our previous sailboat, a 42 foot 1968 trimaran called Aldebaran, we started a cooperative with 30 friends to launch a sailing expedition to the South Pacific: the "Green Coconut Run"

Along the 5 year journey to Tahiti, we collected micro-plastic samples, promoted innovate marine reserves, and brought solar lights to off-grid communities. We hosted over 120 guests in remote destinations along the way. Once we arrived in Tahiti, we started Green Coco Charters to bring our transformative trips to the general public.

Read more about our cooperative here.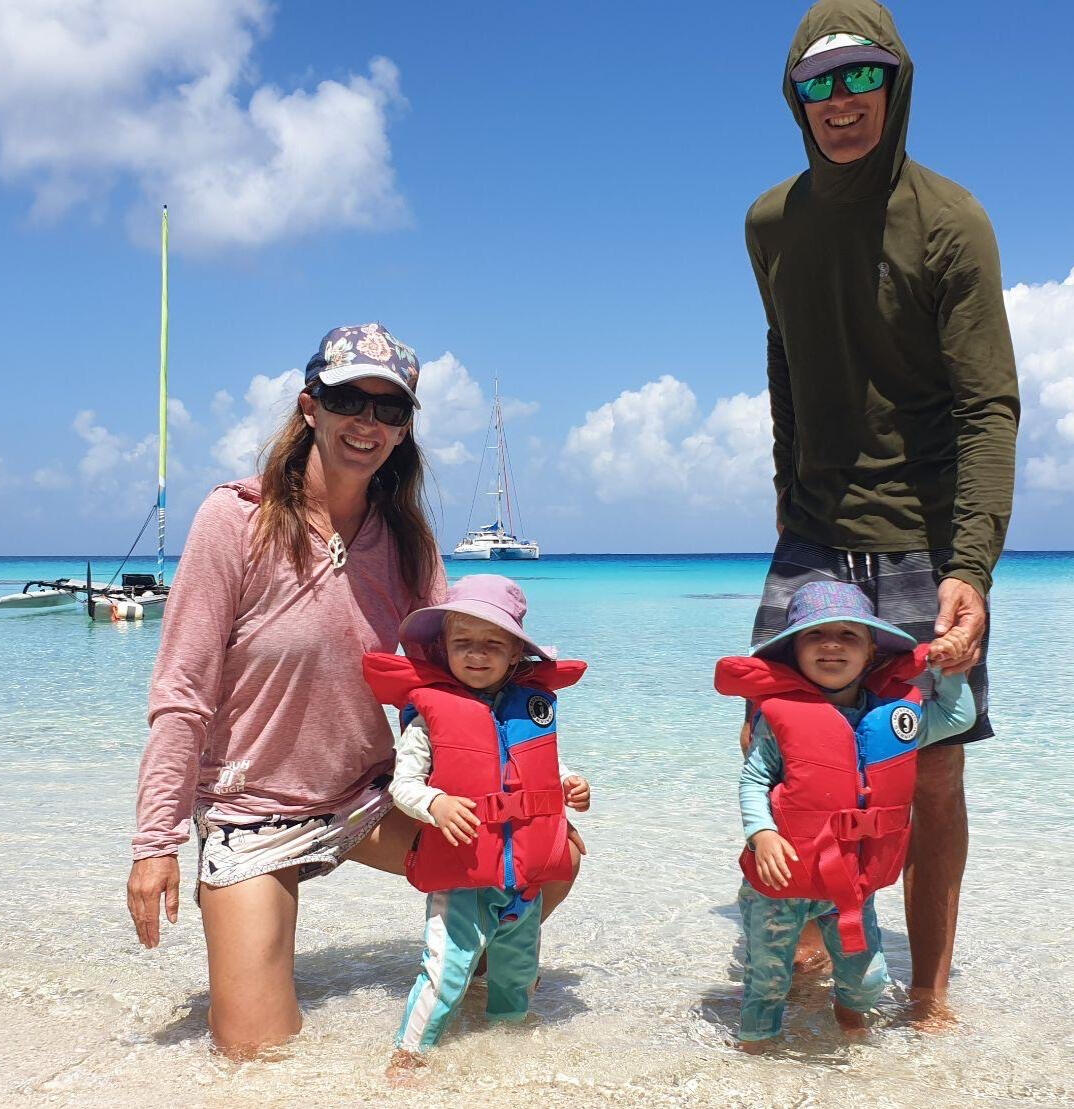 Thank you for your patience as our website is under construction.